Discography
Volume 1 - The Art of Dora Bakopoulou
R. Schumann: Fantasiestucke op.12, E. Granados: Quejas, o la maja y el ruisenor, M. Ravel: Gaspard de la nuit, Pavane pour une infante defunte, A. Scriabin: Vers la flamme op.72 LYRA 2003, CD 1004

Volume 2 - The Art of Dora Bakopoulou
J. S. Bach: Fantasia and Fugue in G minor for organ, BWV 542, L. V. Beethoven: Piano Sonata N. 32 in C minor, op. 111, J. Brahms: Fantasien op. 116
LYRA 2003, CD 1005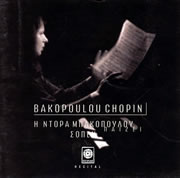 Dora Bakopoulou plays Chopin - 2 CDs
CD 1: Sonata Nr.2, op. 35/ Four Ballades / Barcarolle, op.60
CD 2: Twenty-four Preludes, op.28/Andante Spianato and Grande Polonaise Brillante op.22/ Polonaise-Fantaisie op.61/Nocturne Nr. 1, op. 48/ Mazurka Nr.2, op.24
SIRIUS 2001, CD 20014 2
More info...
MANOS HADJIDAKIS - WORKS FOR PIANO
Six folklore paintings, Solitude, Ionian Suite,
For a Small White Seashell
CD, SIRIUS 2000, SMH 2001 2

More info...
MANOS HADJIDAKIS "Songs of Sin"
Poems by Dinos Christianopoulos and G. Hronas
Singing: Andreas Karakotas,
Piano: Dora Bakopoulou
CD, SIRIUS 1996, SMH 96 002

More info...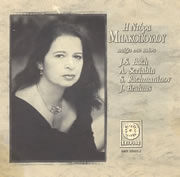 Dora Bakopoulou plays:
J. S. Bach (French Suite No.5), A. Scriabin (Etude No.1, op.2, Sonata No.4, op.30) S. Rachmaninov (Prelude No.5, op.32), J. Brahms (Ballades op.10)
CD, SIRIUS 1995, SMH 95003 2

More info...
MIKIS THEODORAKIS "Beatrice in Zero Street"
Singing: Maria Farandouri,
Piano: Dora Bakopoulou
LP, MINOS-EMI 1994