July 1981

Dora Bakopoulou at the International Festival Patras performing with the symphonic orchestra of Warsaw and the conductor Yehudi Menuhin.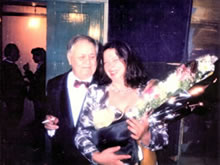 November 1989

Dora Bakopoulou with Mano Hadjidakis at the first concert of Orchestra of Colours.
June 1990

Dora Bakopoulou with Vanessa Redgrave, Eva Kotamanidou and Maria Farantouri in Aktiabre Theatre, St. Petersburg.
September 1991
Dora Bakopoulou with Mano Hadjidaki at Herodio Atticus Theatre.
September 1997
Dora Bakopoulou with Andrea Karakotas at Salle Moliere at Lyon of France.
July 1998

Dora Bakopoulou with the conductor Miltos Logiadis at the backstage of the Herodio Atticus Theatre.
November 2004
Dora Bakopoulou with Martha Argerich when both played the concert of Francic Poulenc "For two pianos"